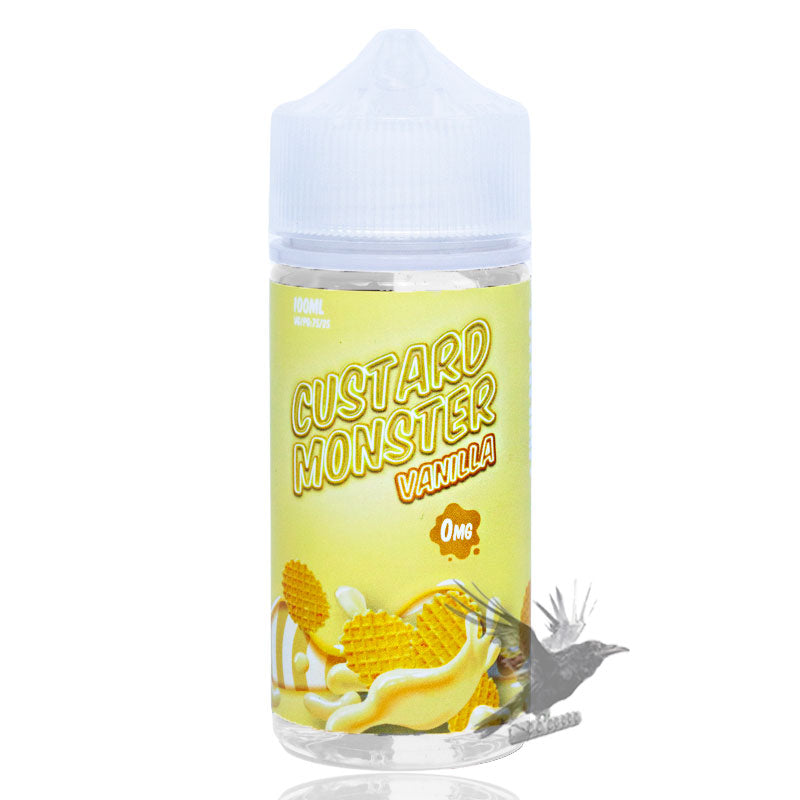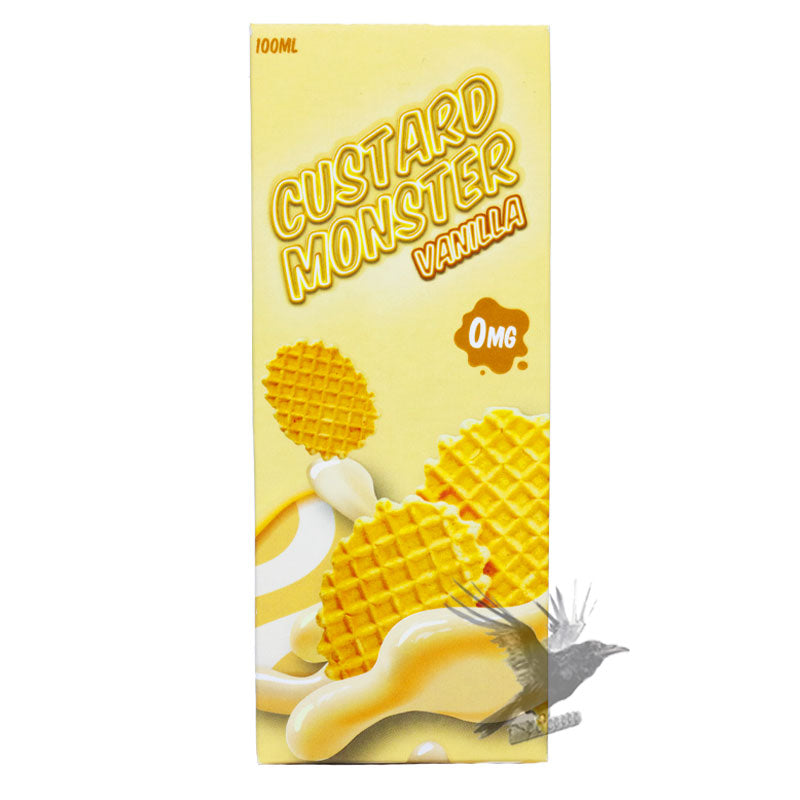 Custard Monster Vanilla By Jam Monster | $11.80
$11.80
Custard Monster Vanilla  The Custard Monster Vanilla is one of the premium e-liquids that comes with a 100ml quantity inside a safe bottle packing. It is a refreshing as well as a delicious burst of flavour that invigorates your taste buds like a delicious smoothie on a summer day. However, a deliciously sweet, creamy as well as thick vanilla custard will delight the taste buds and hence, refresh the senses. This Custard Monster e-juice is packed with the flavour that brings the creaminess of the custard together with classic flavour for an overall rich and savoury blend. People who desired the best flavour should know that it is 70% VG that is vegetable glycerin and 30% PG means propylene glycol. The main difference of vaping salt-based nicotine is the rapid absorption rate into the bloodstream although, the salt-based nicotine does not absorb into the bloodstream as quickly as combustible cigarettes hence, its absorption rate is quicker than the normal e-liquid as well. The product is having an affordable price and also it is shipped quickly as well as carefully right to you. This product is like a life-changing opportunity as the vanilla custard will bombard the taste buds of your tongue with pure bliss.  Jam Monster Vanilla Custard. Specifications 100ml quantity of bottle. Childproof caps with every bottle to avoid leakage and lose packing. The ratio of Vegetable Glycerine & Propylene Glycol that is VG/PG is 70VG/30PG blend. The life expectance is also good. The Jam Monster Vanilla Custard is having a life expectancy of about 2 years. Its exhale taste is like a sharp buttery toast. Also, the inhale taste is as strong as a Custardy Vanilla. Hence, the overall flavour smells like a strong jammy custard toast. The juice gets dark over time and for sure it is darker as the level goes higher. Comes under the levels of 0mg, 3mg & 6mg. Features VG is about 70% whereas the PG is about 30%. It can cure or prevent smoking habits as it is a smoking cessation product. Comes with a 100 ml bottle. Made in the United States. Nicotine is available in the product. How much Nicotine is present in a 100ml of the Custard Monster Vanilla Bottle? Almost all the Custard Monster bottle comes under the level of 0mg, 3mg as well as 6mg. Till what duration the Custard Monster Vanilla e-juice last? It can last an average of between 2 to 3 weeks. However, it often depends on how much you consume the juice in a regular manner. Product Includes 1 x Custard Monster Vanilla NOTE: The materials appearing could include technical, typographical or even photographic errors. We, therefore, may make changes to the materials contained on the website at any time without notice. WARNING: According to the food and drug administration of the US, it is the proposition 65 warning which is known to the state of California, United States that this product contains Nicotine and it is not for the pregnant women as it may cause birth defects also known as the reproductive harm defects as it can cause other reproductive defects too, it is not for the people who are below the age of 18 and also not for the people with breathing problems. So the people listed above should prevent its usage. However, keep it out of the reach of children and pets.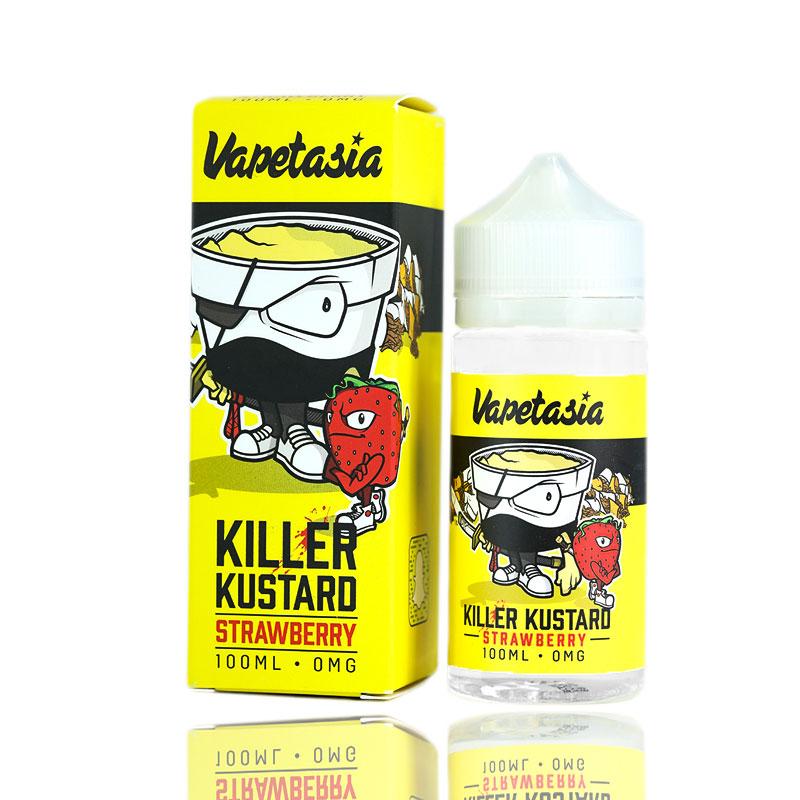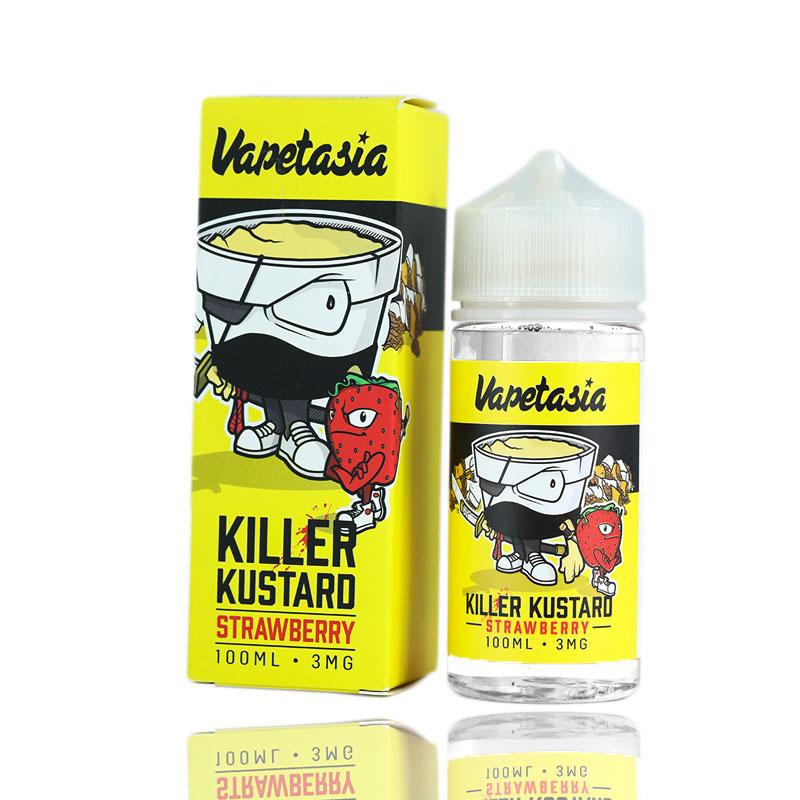 Killer kustard Strawberry by Vapetasia |$10.95 | Fast Shipping
$10.95
$28.00
Killer Kustard Strawberry by Vapetasia is a splendid blend of Sweet Fresh Strawberries Mixed into Creamy Custard drizzling deliciousness. Vapetasia Killer Kustard Strawberry Info: Bottle Sizes: 100mls Bottle Type: Child Proof Caps Vg/Pg Ratio: 70VG/30PG Blend Strengths : 0, 3, 6 Exhale Taste: Creamy Custard Inhale Taste: Strong Sweet Strawberry Taste Flavor Smell: Smells like Strong Strawberry Cream Killer Kustard Life Expectancy: 2 Years juice Gunk Up Coils? : Not To Our Knowlege  juice Stay Clear or Get Dark?: It does Get dark over time and for sure is darker as level goes higher. Killer Kustard Strawberry  Manufacturer Info Bottle Manufactured in the USA: Vapetasia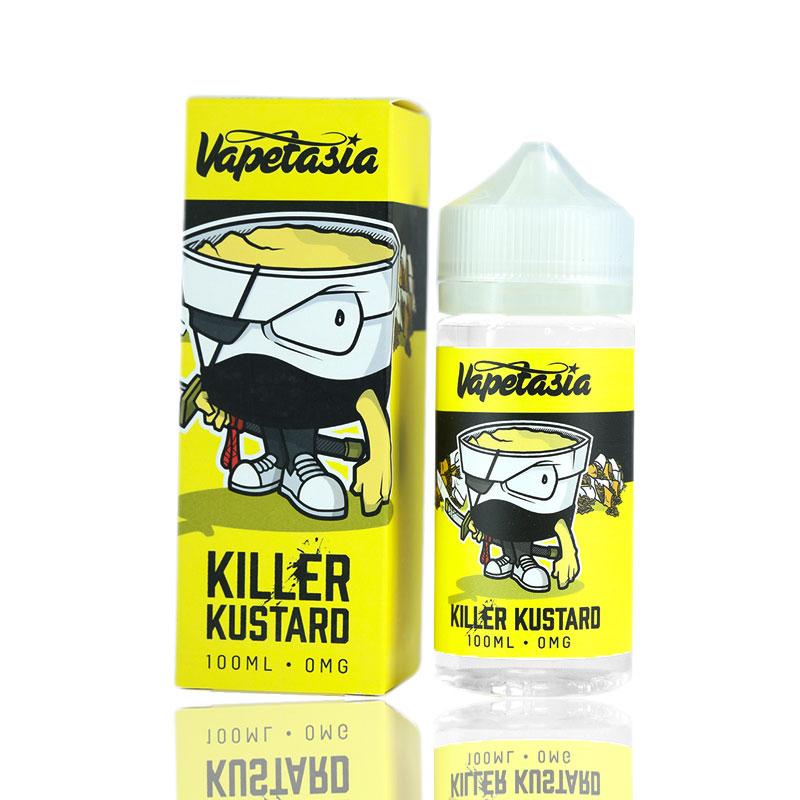 Killer Kustard | Vapetasia Vapor Boss | Custard flavoured eJuice
from

$8.99

$25.00
Killer Kustard is a product by Vapetasia. It presents one of the best pure custard flavour profile in the industry, delivering unbelievably smooth & sumptuous vanilla custard. It brings a mouth-watering flavour of pure & fresh vanilla custard. Killer Kustard is a pure, deep, rich & smooth Vanilla Custard. Enjoy the sweet-scented clouds of rich Tahitian vanilla in every puff & treat your taste buds to the delicious flavour of freshly whipped vanilla custard, as sweet as it is creamy. No wonder it is the top-selling custard flavour in the country. The custard has been carefully prepared with rich creamy milk, imported straight from the farms. Add in a few dozen of the beaten eggs, several heaping cups of sugar, & just a touch of sweet butter and you've got yourself one of the most delicious desserts on the market. Pick up a bottle of Killer Kustard & let the smooth & creamy flavour of freshly blended custard wash over you in heaping sweet-scented clouds. Vapetasia Killer Kustard 100ml Features 100ml of the Chubby Gorilla Bottle. Dropper in the bottle. 70% of VG (Vegetable Glycerin). 30% of PG (Propylene Glycol). Made in the USA. Available nicotine: 0mg, 3mg, 6mg etc. Warning: This product contains nicotine which is a chemical knew to cause birth defects or other reproductive harm. Killer Kustard Flavors Pink Lemonade by Vapetasia. Pineapple Express by Vapetasia. Vapetasia Killer Kustard Blueberry: Killer Kustard Blueberry is a beautiful collision between bursting blueberries in an oversized bowl of creamy custard for a delectable explosion of smooth fruity flavour that finishes on a creamy ending. Vapetasia Killer Kustard Honeydew: Killer Kustard Honeydew is a mix of the popular Killer Kustard paired with the heavenly sweetness of sliced honeydew to create a decadent custard vapes that will leave the taste buds astounded. Killer Kustard Lemon: The inhale of Lemon Killer Kustard is an immediate intense attack on your taste buds of sweet & zesty lemon citrus flavour. An immediate sensation that you will never tired of. The exhale is where the magic actually happens. Milk of the Poppy by Vapetasia: Milk of the Poppy is carefully crafted with the bold sweetness of ripe strawberries, a subtle breath of dragon fruit, & Vapetasia's signature smooth creaminess in every cloud. Vapetasia Killer Kustard Strawberry: Killer Kustard Strawberry elevates the original pure custard flavor profile to a new level, infusing strawberries onto a base of sumptuous vanilla custard for the perfect delivery. Vapetasia Killer Kustard Salt: Killer Kustard Salts is a powerful delivery of nicotine salts blended with smooth rich vanilla & creamy thick custard to reach a perfect balance etc.  
Top Quality
100% Premium Products
Secure Checkout
All Transactions Encrypted